How to build digital library to sell flip book online?
Question
I've published a lot of flip books with your flipbook maker, and I want to sell these flip books online. Is there any way to collect and sell my flip books in a platform like a bookstore with ease?
Solution
You can use A-PDF Flip Book Maker to build your digital library to collect and sell your flip books online. This flip book creator provides you with a BookCase feature with Shopping Cart integrate, which will enable you to process book orders with great ease and high security. And this online book selling solution requires no transaction limit, no bandwidth limit, no setup fee and no transaction fee.
Sell eBooks with Digital BookCase
Step 1: Create a page flip eBook
Launch A-PDF Flip Book Maker and import a PDF for conversion, and you can customize the flipbook with various settings and features based on the beautiful template.
Step 2: Publish the eBook Online
After you finish designing the flipbook, click "Upload Online" to upload the flipbook to our Cloud Hosting with you (email) account. If you don't have an account, you will need to create a new one.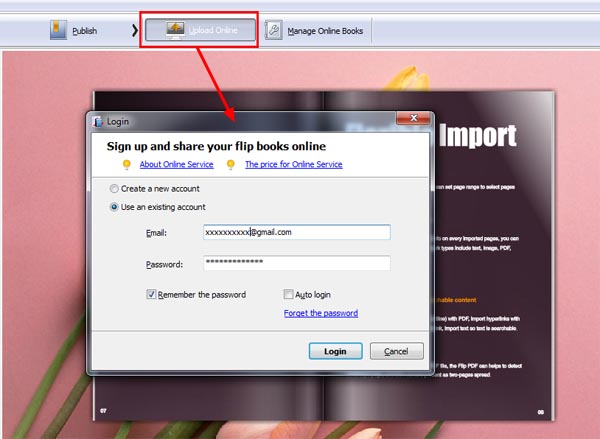 Now you will need to set book title, description and other settings. Click "Sell this book on BookCase" and you will see the pop-up "Modify Book" dialog, enable "I want to sell this eBook online (integrate with PayPal)" option. Here you can set Price for the book and set page range for "Allow readers to preview the book before paying".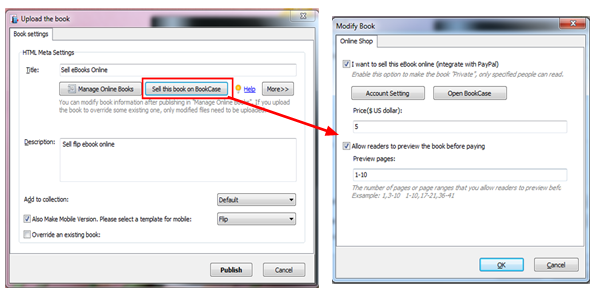 Click "Account Setting" in the "Modify Book" dialog to input your email used to receive payment via PayPal, define Thank-you message and your contact info.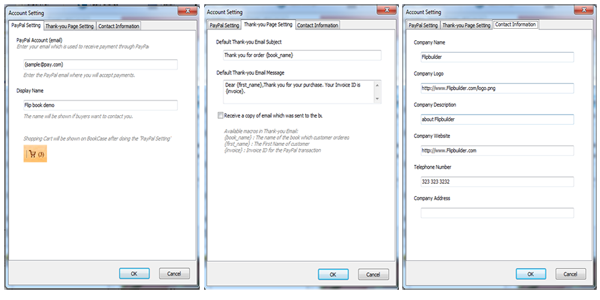 Step 3: Build & Customize BookCase
Click "Online" at the top left and then "Manage Online BookCase" to build a new BookCase; you will need to input a BookCase name, and you will get a BookCase URL according to the BookCase name.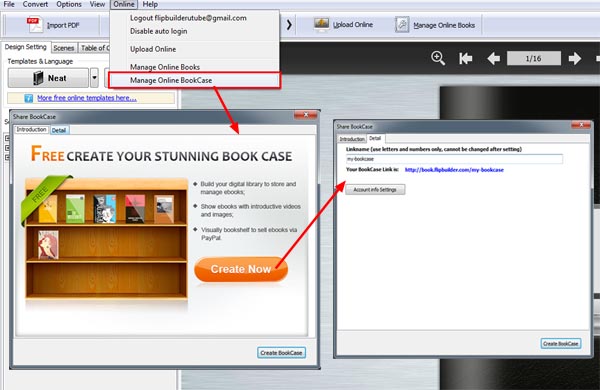 Once the BookCase is built, the books you upload to our Online Hosting (with this current account) will be listed in your BookCase automatically.
Now you can customize your own BookCase with a series of settings such as logo, background and color. And don't forget to enable "BookCase Shopping Cart" icon on the BookCase toolbar so your readers can purchase your eBooks with a simple click.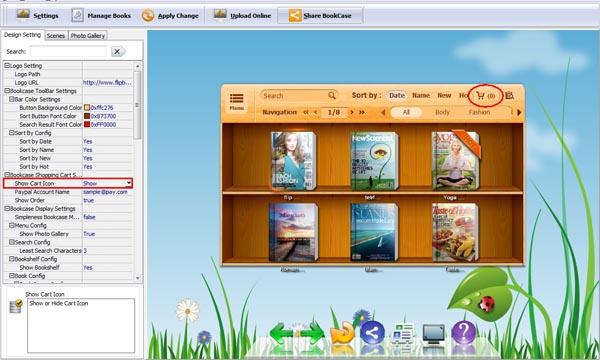 Step 4: Publish your BookCase
You can manage the books within your BookCase, and you can even add external online eBooks to your BookCase for selling.
Then you can output your BookCase to local or upload it online directly to your BookCase URL. And after you publish it online, you can embed the BookCase to your website or other webpages.
Now your digital library is live online and you can sell your flip books with ease; people who want to buy your eBooks just need to add them to the Shopping Cart or pay directly via PayPal.
Related products
We always like improving our products based on your suggestions. Please send your feedback (or ask questions) to us in the contact page.