How to convert plain PDFs to interactive page-flipping ebooks?
Question
Can you suggest an effective solution for converting plain PDFs to interactive page-flipping eBooks?
Solution
I suggest you use A-PDF FlipBook Maker to convert PDFs to virtual page flip books. This software will allow you to make your plain PDF ebook more lively and engaging, and it's very easy and will take you only several minutes.
Step 1: Import plain PDF document
Start the flipbook maker software, and import your plain PDF document.
Step 2: Customize interactive flip eBook
After you import the plain PDF file, you can customize the flip eBook based on the template. You can change the book logo and theme; replace the background with your own image; select multiple languages for easy switching and so on.
Step 3: Publish the page-flipping eBook
When you finish the design for the eBook, you can publish it in optional format: HTML with mobile version for iPad/iPhone/Android, ZIP for email, EXE as standalone executable app, App for Mac, WordPress plug-in, Joomla module, Drupal module or screen saver. Or you can publish the book online directly by using our "Upload Online" service.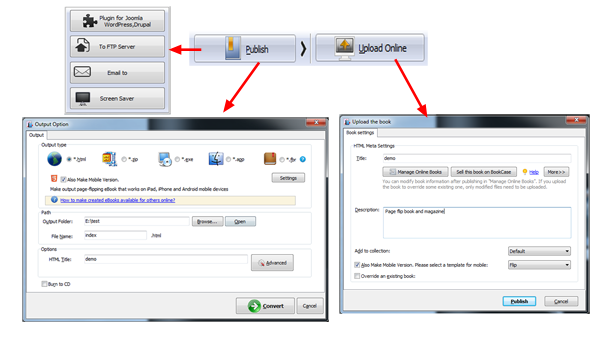 Related products
We always like improving our products based on your suggestions. Please send your feedback (or ask questions) to us in the contact page.