How to create, share and view flipbooks from PDF?
Question
I want to create some digital flipbooks and share them with my friends via Facebook, Twitter and other social networks, would you suggest any solution?
Solution
You can try A-PDF Flipbook Maker which can help you convert PDFs to lifelike page flip books. And after you publish the flipbooks online, you and your readers can easily share the book via email or social networks such as Facebook, Twitter and Google+. Your flipbook, rather than the static PDF, will get a lot of Likes, Retweets, Plus... and it's very easy and quick.
1. Import PDF
Create a new project and then import a PDF.
2. Enable Share
After you enter into the main interface, click the "Design Setting" tab, input "share" in the Search box, and you will see the "Share" and "Social Share" options, select "show" to enable the share feature.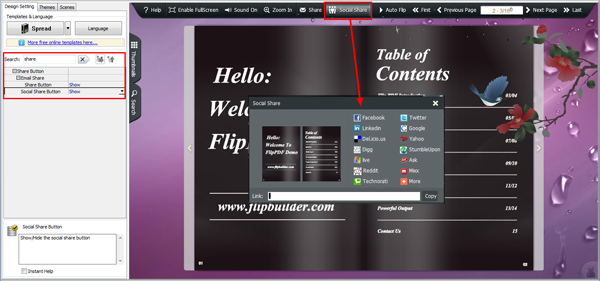 3. Publish the Book Online
After you finish customizing the book, click "Publish" to output the book in HTML format and then upload to your website, or click the "Arrow" button and select "To FTP Server" to upload directly. Besides, you can also click "Upload Online" to publish the book to our online hosting.
And after the book is published online, you can share it by sending the book link via email or social networks.
Related products
We always like improving our products based on your suggestions. Please send your feedback (or ask questions) to us in the contact page.