How to cut down the file size of my electronic flipbook?
Question
The digital flipbook I create is too large for uploading and takes long time to load, so how can I reduce the digital flipbook file size?
Solution
It takes long time to load a large file size digital flipbook, so if you reduce the book file size, you cannot only present your readers a stunning page flipping book, but also improve the user experience of your flipbook and website. And it is very easy to cut down the file size of your flipbook with
A-PDF Flip Book Maker
.
1. Launch A-PDF Flipbook Maker and in the Create New screen, click the "Create New" button to create a new flipbook, and browse a PDF to import;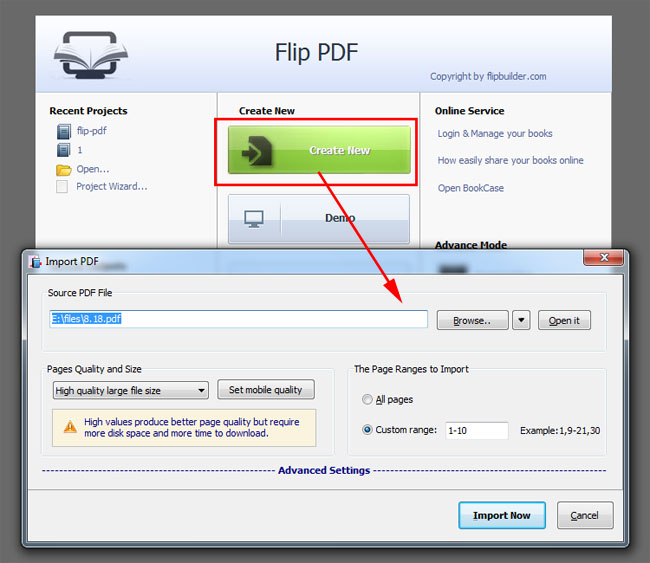 2. In the Import screen, you will see the option "Page Quality and Size", and then you can select different quality and size. High values produce better page quality but require more disk space and more time to load, and vice versa;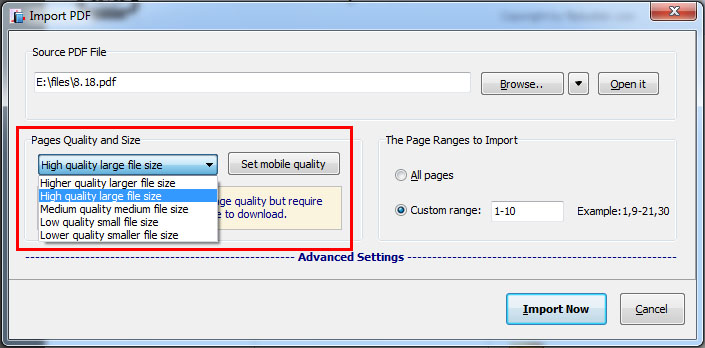 P.S: You can also set mobile quality for your flipbook on mobile devices.
3. Define other settings and import the PDF and design the flipbook with pre-designed templates and themes, and other settings;
4. At last, click the "Publish" button to enter the Output interface, choose a output type and then you can publish a small file size digital flipbook.
Related products
We always like improving our products based on your suggestions. Please send your feedback (or ask questions) to us in the contact page.