How to make page turning book into executable file?
Question
I don't want to publish my output page turn book to my website or online, so how can I make it possible for both PC and Mac users to read my book? Is there a way to convert it to an executable file?
Solution
Our flip book maker can help you convert a PDF file into a lifelike page turning book and in the meanwhile, it enables you to publish the book in a standalone executive file to run on PC (EXE) or Mac (App). You don't need a network to read the flip book.
Step 1: Create a new book project
Start A-PDF Flipbook Maker, click "Create New" button and import a PDF file, define settings such as page range and page quality.
Step 2: DIY the flip book
After you import the PDF, you can design your book with different custom settings: background, logo, background sound, page flip sound, feature buttons and so on.
Step 3: Publish executable flipbook
Click "Publish" button and the Output Option dialog will pop up. You can publish the book in either "EXE" for PC or "App" for Mac. And you can define different settings for either of the two formats.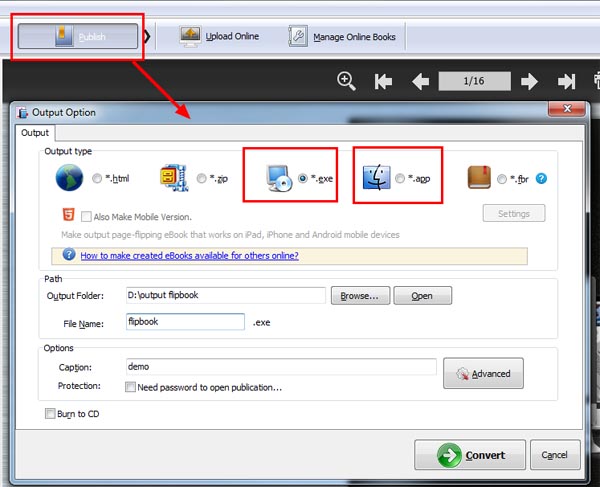 Besides, you can output the flipbook in FBR format to read on our free Flip Reader.
Related products
We always like improving our products based on your suggestions. Please send your feedback (or ask questions) to us in the contact page.