How to optimize your content for search using flipbook maker?
Question
My content is written in PDF file, how can I make my book content searchable? I mean, what should I do to enable others to search my content on Google?
Solution
You can use our flipbook maker to convert your PDF file to page flip book. A-PDF Flipbook Maker is a powerful piece of software which can help you convert PDFs to page flip books and in the meanwhile, it will extract the text from the PDF and turn it into searchable text. That means, your content can be searched by Google. This is a great and effective way to optimize your content for SEO and you can make it true with the help of A-PDF Flipbook Maker.
Step 1:
Prepare your PDF content for conversion
After you start the software, create a new project and browse your PDF you want to convert. And under the Advanced Settings, select the "Enable search" option and import the PDF.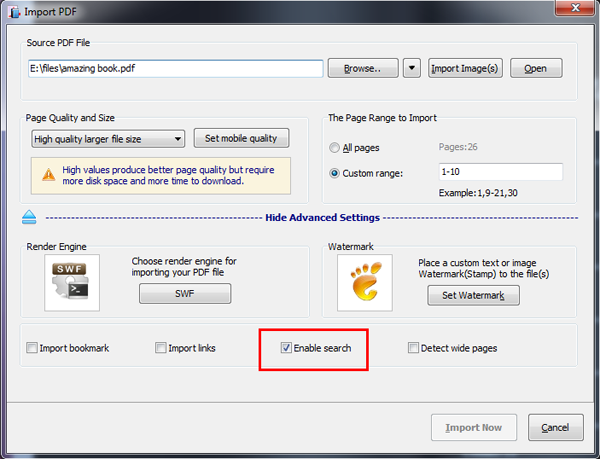 Step 2: Configure flipbook with custom settings & features
In the next screen, you can customize the flipbook by using different settings and features: template, theme, scene, background, plugin, assistant, language, table of contents and so on.
Step 3: Publish HTML flipbook
Now, after you complete the design for your book, you will like to publish the book online. Click "Publish" and choose HTML format to publish the book. At last, upload all the output flipbook files to your website via FTP. Or, you can click the "Arrow" button next to "Publish" and choose "To FTP Server" to publish the book online directly.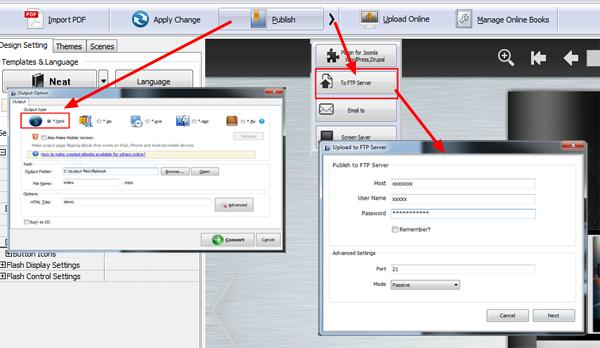 Optionally, if you don't have a website, you can publish your searchable flipbook to our server by using the Online Service. Click "Upload Online" and login with your registered account to upload the flipbook online for easy search on Google.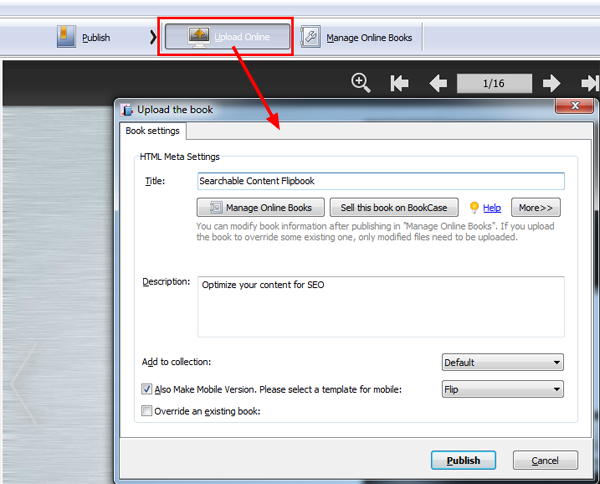 Related products
We always like improving our products based on your suggestions. Please send your feedback (or ask questions) to us in the contact page.