How to print the pages selected from digital flipbook?
Question
The output flipbook looks beautiful and I want to print some pages, is it possible for me and my readers to print only some pages instead of all pages of the flipbook?
Solution
You can use A-PDF Flipbook Maker to print specific pages you want with ease. You can refer to the below steps.
Step 1 Import PDF for conversion
After you start A-PDF Flipbook Maker, just create a new project and import your PDF file; and then click "Import Now" to enter into the main design interface.
Step 2 Enable Print and configure Print settings
In the next screen, you can customize the flipbook with a series of settings based on a selected template: theme, background, scene, bookmark, plug-in, background sound and so on. Of course, you can configure the Print settings.
In the Design Setting tab, you can find the Print option with ease: Tool Bar Settings (or Flash Control Settings) >> Buttons Bar >> Print Config. Select "Yes" to enable the Print feature and you can add Print watermark for the print book pages.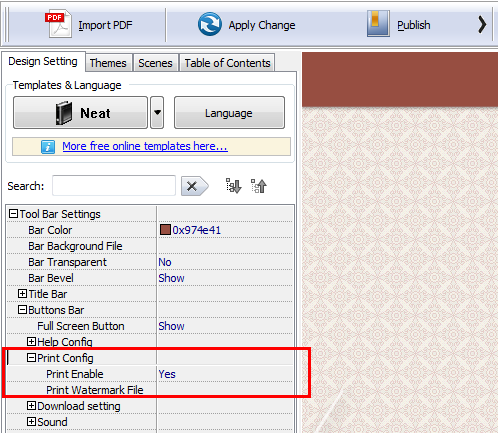 Step 3 Publish the book
After you customize the flipbook, click "Apply Change" to save the settings and then publish the flipbook and upload it online.
And then you and your readers can print the book by clicking the Print button. You can choose the page range for printing: All pages, current page and custom pages.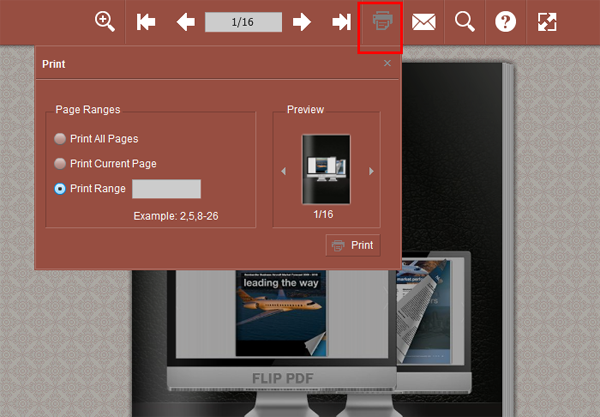 Related products
We always like improving our products based on your suggestions. Please send your feedback (or ask questions) to us in the contact page.