How to put flipping digital brochure on WordPress website?
Question
I don't have a website but I run a WordPress site, and I want to put the digital flipping brochure into my WordPress website. Could you show me how to do this with your software?
Solution
I suggest you use A-PDF Flipbook Maker to convert the flipbook into a WordPress plug-in and then install the flipbook plug-in into your WordPress.
Step 1: Publish WordPress plugin flipbook
Import a PDF file and customize the book based on a selected template; click the "Arrow" icon next to "Publish", and in the drop-down list box, select "Plugin for Joomla, WordPress, Drupal". In the pop-up "Publish as Plugin" dialog, select "WordPress Plug-in" and define file name, book proportions and output path, click "Publish" to publish a ZIP file for the flipbook plugin.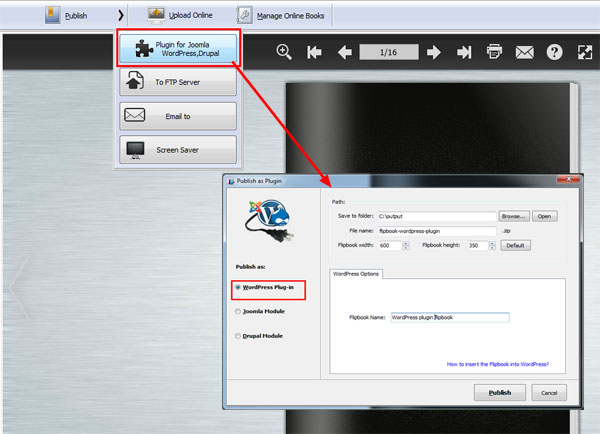 Step 2: Install the flipbook plugin into WordPress site
Log into your WordPress, in the Adminstrator part, click "Plugins >> Add New" in the menu and upload the ZIP file you just created, and click "Install Now".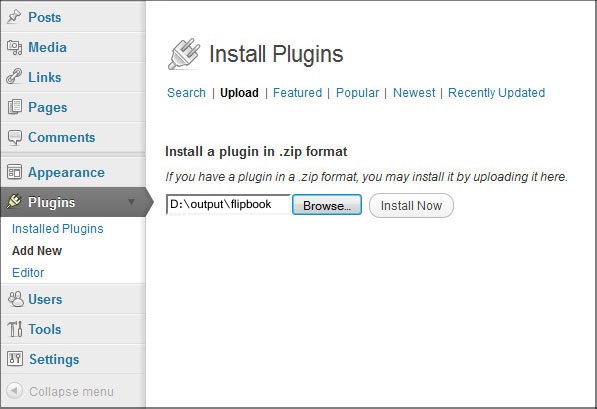 Step 3: Enable the flipbook plugin
Now you will be required to enable this newly added plugin, and after you activate the plugin, it will be listed in the menu.
Step 4: Embed the flipbook plugin to WordPress
After you enable the plugin, you can click the flipbook and you will see the plugin listed in the menu. Then you can copy the shortcode and paste it ot your WordPres post or template:
To embed the flipbook plugin into your page, use shortcode:
To embed the flipbook plugin into your template, use php code
Related products
We always like improving our products based on your suggestions. Please send your feedback (or ask questions) to us in the contact page.