How to track flash flip book, digital magazines via Google Analytics?
Question
After I publish the flipbook online, I want to know how well my book performs. Can you tell me how I can use Google Analytics to track visit info of my flash flip books or digital magazines?
Solution
You can use A-PDF Flip Book Maker to add Google Analytics tracking code to your flash flip book, and after you upload the book online, you can monitor the book visit info alive from Google with your account. And you can add tracking code to your book in two ways:
Method One: Add Google Analytics code
Note: This method can only track visit info of the FIRST page of the book, but CANNOT track the other pages.
Step 1: Sign up or login your Google account
First you will need to login your Google account and if you don't have one yet, you should register a new account first.
Now log into your Google account and add Google Analytics to be a "Product" associated with your Google account. Input your new "Account Name", site URL (domain.com) and complete other settings you prefer.
Step 2: Add Google Analytics to A-PDF to Flipbook Pro
Now you can either log in the existing Google account and add Google Analytics to your existing products, or log in the new Account to add Google Analytics as part of the process. And next, you will need to embed the unique Google Analytics code to collect data on that domain.
(1) Publish the flipbook in Flash/HTML5 format
When your book is ready for publishing, click "Publish" and select Flash/HTML5. Then you will see the Output dialog, choose "*.html" and click "Advanced".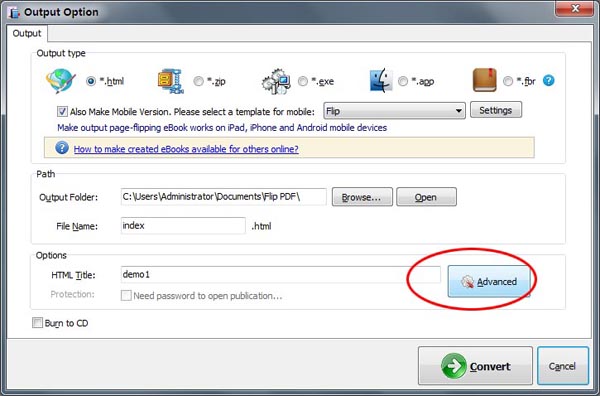 (2) Embed Google Analytics code to book page
In the Advanced Settings dialog, embed the below Google Analytics code (replace the account with yours) into the "Add Scripts" field, click OK to save the settings.
Method Two:
You can input your Google Analytics ID to the flipbook directly. And this method allows you to track visit info of each page of your flip book.
In the main Design interface, you will find this option: Design Setting >> Flash Control Settings >> Google Analytics ID. Input your ID and publish the flipbook online. And then you can login your Google Account to track your flash flip book.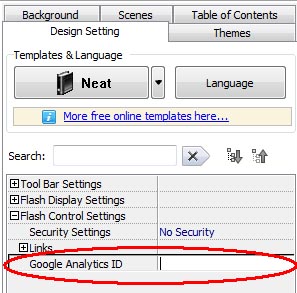 Related products
We always like improving our products based on your suggestions. Please send your feedback (or ask questions) to us in the contact page.