Tutorial to manage online publications with Page Flip Software
Question
I've been focused on your Flipbook Maker for a long time. It is the one has impressed me the most. Recently I have used Flipbook Maker to upload publications online. Now I want to change the title of online publications for SEO, but I have no idea. Can you help me?
Solution
Flipbook Maker not only allows you to publish flipbook online, but also manage those online books easily. With the help of "Manage Online Books", you can edit, share and even delete online flipbook.
Learn below steps to know how to change the title of online flipbook:

1. On the whole process, we need to use Flip Book Maker (free download here), so now we should install A-PDF Flip Book Maker firstly;
2. Run this program and then open a new project to import PDF and design; 3. After designing, presses "Upload Online" button to publish publications online; 4. Then, open manage books panel by clicking on "Manage Online Books";

5. In Manage Books panel, there are listing all flipbooks you uploaded;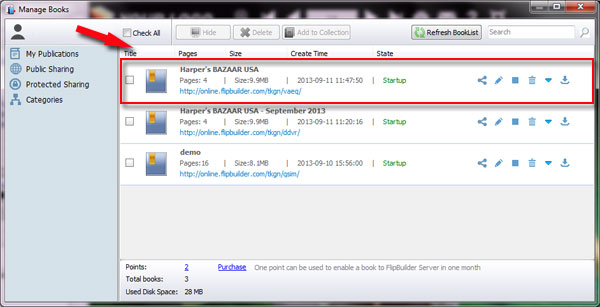 6. Find the book you need to edit and then click "Book Details" icon;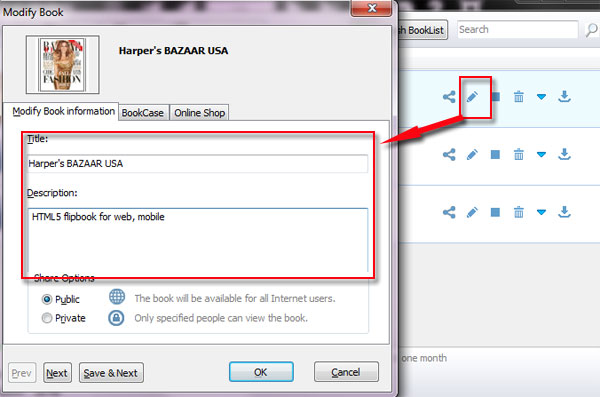 7. Input the new title and description for your book. Click "OK".
Besides, you can also easily share your book to friends via email and social network in manage book panel.
Related products
We always like improving our products based on your suggestions. Please send your feedback (or ask questions) to us in the contact page.