How to create interactive button for your flip book?
Question
I want to add some eye-catching buttons to my flip book pages so when others open my book, they will notice the buttons. And once they click the buttons, they will be direct to my website or other web pages.
Solution
You can try A-PDF to Flipbook Pro. This powerful flipbook maker provides you with an amazing Page Editor that allows you to enrich your flip book with rich media and animated items, including interactive button. And you are allowed to customize the button with various settings: button style, reflection, shadow, caption and action options such as "Open a link".
1. Import PDF & Customize Flipbook
Start the software and browse a PDF to import, and then you can customize the flipbook based on your favorite template.
2. Add Button to Page
Click "Page Edit" to enter into the Page Edit interface. Click the "Add Button" icon and add it where you want it on the page.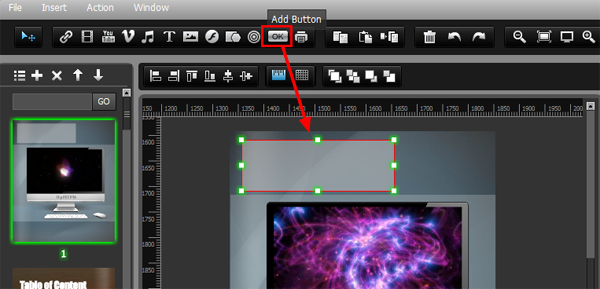 3. Customize Button
Now you can choose an image or SWF as the display button or select one from the library. And you can add caption to display within the button, set font properties and caption position. What's more, you can click "Action Options" to select an action for the button: Open a link, call JavaScript function, open Flash window, play audio/YouTube/Vimeo, photo slideshow, etc.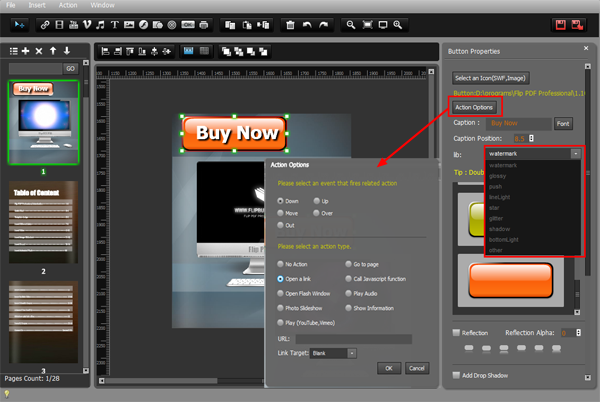 At last, save and exit the Page Editor and publish your flipbook.
Related products
We always like improving our products based on your suggestions. Please send your feedback (or ask questions) to us in the contact page.